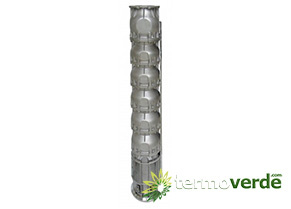 12'' FB AISI 316 Stainless steel mixed-flow submersible pump for clean water – FB12SE/3G - DN300 - Maximum Flow Rate 5000 l/min - H(m) 30 - Motor to couple 8F80 - 80,0HP - Quote on request
12" pumps mixed-flow type, range FB12S, are for clean water for 12" wells DN 300.
This pumps have mixed-flow impellers with diffusers combined on each stage.
They may be chosen when high capacity and medium-low head are needed.
APPLICATIONS:
- irrigation, water supply system, pressure boosting, fire-fighting systems
- sea water
- brackish water
- drinking water
- thermal and sulphurous water
- desalinization and osmosis
- aggressive and corrosive waters
- different sectors of the industry: such as food, petrochemical, steel and shipbuilding
- hard applications: mine

STAINLESS STEEL AISI 316 CONSTRUCTION:
PREN 26 (Pitting Resistence Equivalent)
- stainless steel AISI 316 (W. Nr. 1.4401) impellers
- stainless steel AISI 316 (W. Nr. 1.4401) delivery bowl
- stainless steel AISI 316 (W. Nr. 1.4401) pump body
- stainless steel AISI 316 (W. Nr. 1.4401) non-return valve
- stainless steel AISI 316 (W. Nr. 1.4401) shaft
- stainless steel AISI 316 (W. Nr. 1.4401) cable cover
- stainless steel AISI 316 (W. Nr. 1.4401) suction strainer
- stainless steel AISI 316 (W. Nr. 1.4401) nuts, bolts and screws
FEATURES:
- maximum capacity: 8500 l/m
- maximum head: 374 meters
- maximum power: 190 Kw
- maximum encumbrance diameter: 290 mm (cable cover included)
- maximum water temperature: 60°C (only for the pump, for the motor see motors' catalogue)
- maximum sand content: 100 g/m3
» Pump data sheet - Dimensions and weights – Performance curve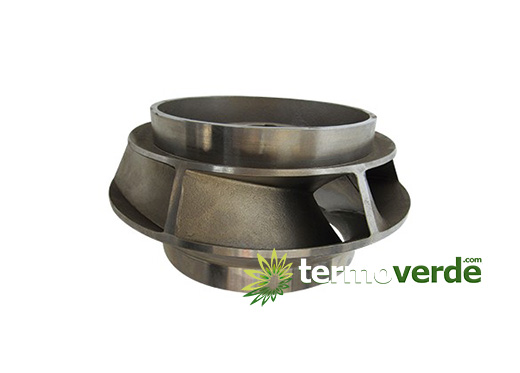 Quote on request, send an