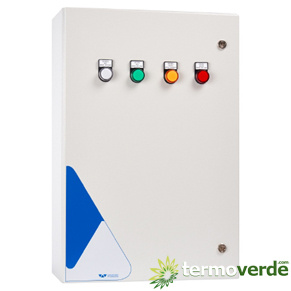 400V 800KVA - 1250A Elentek ATS 18 - Control panel with power switching for the automatic start of a generator when receiving the command from a control unit on board of the generator
The ATS panel is suitable to all those generators which are already equipped with a control and automatic mains/ generator switch unit.
The entire ATS range is supplied in metallic box IP55, with 4 colored lamps on the frontpanel to signal: mains presence, mains on, genset presence, genset on.
The generator is started by contactors or motorized switch installed in the ATS panel itself.
GENERAL FEATURES
4 signalling lights:

White light for mains presence
Green light for mains power supply
Yellow light for generator on
Red light for generator power supply

Mains/generator changeover by contactors or motorized switch;
Metallic box IP55.
POWER

CURRENT

DIMENSIONS

COD.

230V KVA

400V KVA

A

H

L

W

Material

ATS 1

12 020

6

17

25

40

30

20

Metallic

ATS 2

12 021

8

22

32

40

30

20

Metallic

ATS 3

12 022

16

30

45

40

30

20

Metallic

ATS 4

12 023

-

40

60

50

40

20

Metallic

ATS 5

12 024

-

60

90

50

40

20

Metallic

ATS 6

12 025

-

68

125

70

50

25

Metallic

ATS 7

12 026

-

78

125

70

50

25

Metallic

ATS 8

12 027

-

100

160

80

60

30

Metallic

ATS 9

12 028

-

135

200

100

80

30

Metallic

ATS 10

12 029

-

170

250

100

80

30

Metallic

ATS 11

12 030

-

200

315

100

80

30

Metallic

ATS 12

12 031

-

250

400

100

80

30

Metallic

ATS 13

12 032

-

300

640

100

80

30

Metallic

ATS 14

12 033

-

400

640

120

80

30

Metallic

ATS 15

12 034

-

500-550

800

120

80

30

Metallic

ATS 16

12 035

-

570-640

1000

160

100

40

Metallic

ATS 17

12 036

-

700

1250

180

100

50

Metallic

ATS 18

12 037

-

800

1250

180

100

50

Metallic

ATS 19

12 038

-

900

1600

180

100

50

Metallic

ATS 20

12 039

-

1000

1600

180

100

50

Metallic